Encouraging teenagers to read books
Surprisingly, parents who regularly read to their preschool kids in order to instil a love books and story-telling from a very young, 'pre-reader' age, are not immune to the decline in readership which occurs amongst tweens and teens.
Why does it seem inevitable that older kids drift away from reading?
Our most recent Kidz Global study, The Kid Consumer 2019, which tracks the lives, habits and consumer behavior of over 18,000 kids aged 3-14, reveals that, between primary school and senior school ages, daily participation in reading for pleasure drops by an average of -26% across 9 key countries:
Reading loses out to other activities in the battle to win a share of kids' increasingly limited and fragmented free time.
Reading may become too closely associated with the stress of homework and school attainment rather than as a source of pleasure.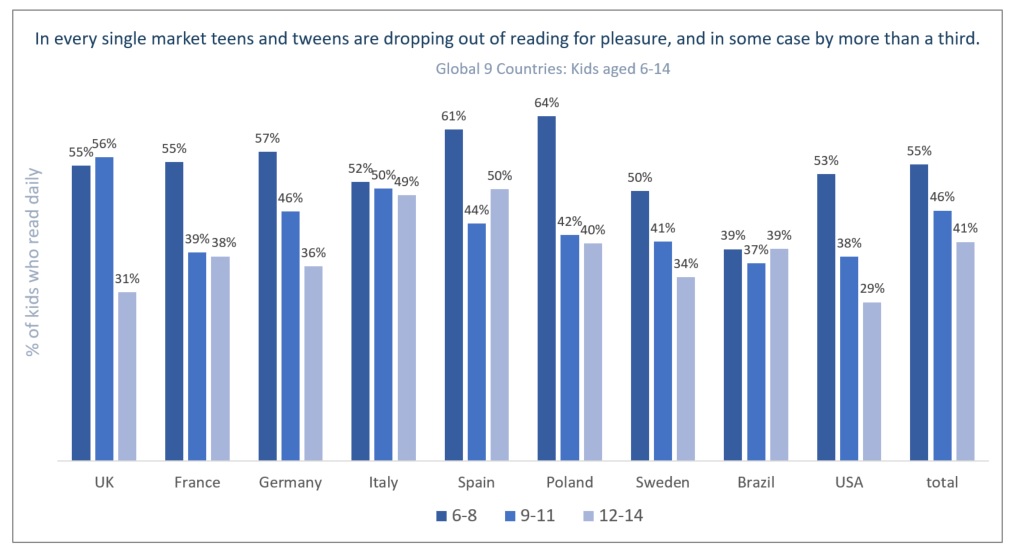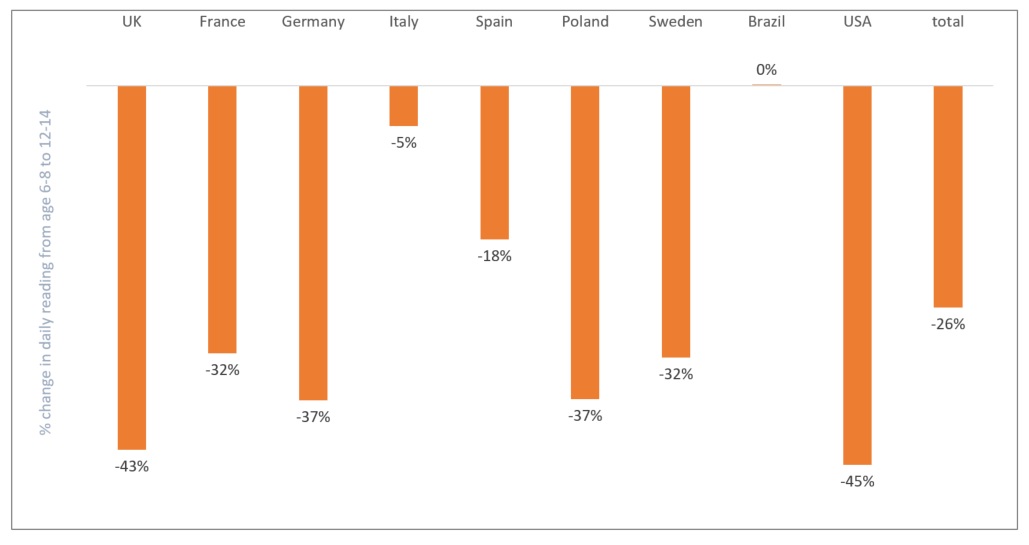 But there are unique factors at play in each country which are driving the changes in reading habits differently.
Take Italy, for example. Italy has one of the lowest levels (56%) of involvement in 'daily reading' by parents of preschoolers, and the lowest use of books owned in the home. However, paradoxically Italy sees the highest retention of daily readers from primary school (kids aged 6-8) to teens and tweens, with just a -5% loss. This is in spite of the fact that Italian kids aged 3-8 had the lowest level of enjoyment of reading, whether with a parent or independently. We know that parents who are sporadic, occasional readers to younger kids tend to use electronic devices, 'screen reading', instead of books. It's conceivable that kids who started their reading journey using tablets, have a strong association and established pattern of behavior to use digital devices for the purpose of reading, rather than for the purpose of gaming, social media, watching audio visual content or surfing the internet.
Germany sees a substantial exodus, -37%, of daily readers between primary age and teenage years. This is despite more parents reading to their preschoolers and early readers than the global average; despite high ownership and usage of their own books (79%) and despite the above average levels of enjoyment felt by German kids themselves when their parents are reading with them. What we do know is that German early readers, aged 6-8, are less engaged with reading independently, without their parent's involvement. It is important, therefore, for German parents to remain involved and continue to read stories to their kids at bedtime, as they grow older, be it using books or tablets. But take in to account that the participation rate, amongst German tweens and teens, in organized activities after school is above the global average, which means that they have less free time available to commit to reading, amongst the other activities which are competing for a share of that free time.
Like Germany, preschool and primary school kids in the USA also start off in a stronger position than kids in Italy, with higher levels of involvement of parents in reading to their kids and more use of their own books. Contrary to Germany, enjoyment in reading amongst 6-8-year-olds continues, unabated, regardless of whether 6-8-year-olds are reading independently or being read to by a parent. Despite this strong start, the USA also sees a -45% drop in daily reading, from primary to teenage kids. American kids have higher levels of ownership of digital tech devices, including video game consoles, and spend on average 3 hours a day playing video games. Whilst their time spent playing video games is not so dissimilar to the average time spent by kids across our 9 countries included in this study, American tweens and teens are 12% more likely to play video games every single day of the week, and 50% more likely to be 'constantly' on digital devices, taking up all their free time, and leaving very little time left for reading.
Summary
There is no 'one size fits all' solution to promote reading amongst older teens and tweens, that will provide an inevitable boost to the print publishing industry in the short term. However, parents of older children need encouragement and education about the continued benefits of reading to their child. Emotional benefits of family bonding over a good book. Cognitive benefits of auto visualization which storytelling promotes. And with so many reports in the media about mental health and sleep deprivation amongst tweens and teens, reading provides the mental salve for many children in their pre-sleep routine.
At an early stage within kids migration in to the world of digital, a strong association between screens and reading needs to be established as quickly as possible. Start by encouraging parent to enrol their kids in online book clubs. Publishers can target screen users on any digital platform, to promote and inspire kids about new literary adventures, mysteries or comedy within the digital environment.
To get in touch and find out more,
click contact
.